UPOU Office of the University Registrar Launches New Website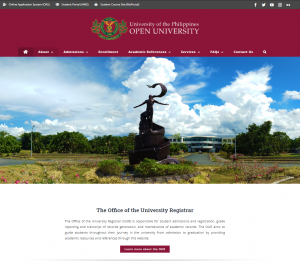 In line with the goal of the University of the Philippines Open University (UPOU) to increase web presence/visibility and improve accessibility, the Office of the University Registrar (OUR) new website – our.upou.edu.ph — went live on 11 December 2019 and will be officially launched on December 18, 2019.
The new website aims to enhance access to UPOU academic policies and procedures, courses, academic calendar, student references, and OUR services by providing a user-friendly browsing experience, and pages that are easier to navigate. Links to online services such as the Academic Information Management System (AIMS),  Student Portal, Online Application System (OAS), and student course site (MyPortal) are also distinctly displayed on the home page for easier access. 
The quick links found in the new OUR website direct students and potential applicants to some of the most popular resources and frequently asked questions about the university's application and enrollment procedures. Academic references crafted by the university are also available on the new OUR website to enable the students attain academic goals and bring out excellence in education from the time the student enrolls to the time s/he graduates.
The OUR will continuously update the website's content with useful information, relevant announcements, and comprehensive academic processes to widen its reach and enhance its online presence. ( FVSecreto)