Extension of Admission Deadlines and Rescheduling of UgAT for the 3rd Term AY 2019-2020 and 1st Term AY 2020-2021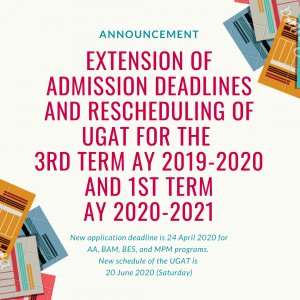 Admission deadlines for the submission of application to our Associate, Bachelor, and Master of Public Management programs have been extended to 24 April 2020.
The schedule of the Undergraduate Assessment Test (UgAT) for the 3rd Trimester 2019-2020 admission originally scheduled on 14 March 2020 and the 1st Trimester 2020-2021 admission originally scheduled on 6 June 2020 will be both moved to 20 June 2020, Saturday. Additional information and detailed instructions will be provided by the UPOU Office of the University Registrar to the examinees.